How Can I Help During an Election?
The Wisconsin Elections Commission encourages every eligible citizen to vote and to become involved in the election process. One of the most rewarding ways to do this is to become an Election Day poll worker, also known as an election inspector). The Chief Election Inspector is in charge of the polling place, and has additional training requirements.
Citizen involvement is essential to conduct open, accurate and fair elections in Wisconsin. We hope that you will consider participation in one of these positions.
There are several different jobs at polling places in Wisconsin, all of which are appointed by municipal clerks.
Election Inspector (ie: Poll Worker)
Election inspectors help check voters in at the polling place and register them to vote, as well as issuing them ballots. Election inspectors receive training from the municipal clerk or online from the Wisconsin Elections Commission. They must be residents of the county where they will be working.
Chief Election Inspector
The Chief Election Inspector serves as the lead election official at a polling place. In order to become a Chief Election Inspector, you must complete online or in-person baseline training which lasts about two hours. Chief Election Inspectors must be residents of the town, village or city where they serve as a chief inspector (in a pinch a Chief Inspector can be from the county).
Greeters or Election Registration Officials
Each polling place can have one person appointed as an official Greeter who must be a resident of the county where they serve. Greeters can also help at a polling place by making sure voters are in the correct line and assist with sanitization efforts. Election Registration Officials, or EROs, must be residents of the county in which they serve and help voters registering to vote on Election Day. Both greeters and EROs must take some training before Election Day about the job they will be doing.
Tabulator
Tabulators assist with ballot counting after the polls close on election day. State law does not make any specific residency requirements of these individuals.
Polling Place Helper
Some elections may need polling place helpers to keep the polling place organized. Depending on the clerk and the election, you may be able to volunteer to help out at a polling place by making sure voters are in the correct lines, assist with enforcing social distancing, and making sure the polling place is properly cleaned throughout the day. Citizens who just want to help with these tasks on election day do not need to meet any training or residency requirements.
Contact our Town of Delavan Clerk, Kristy McChristy to sign up to serve during the next election. 
Email [email protected]
or phone 262-728-3471
---
Did You Know that High School Students Can Be Poll Workers? 
Click HERE for more information!
---
POLL WOKER TRAINING REQUIREMENTS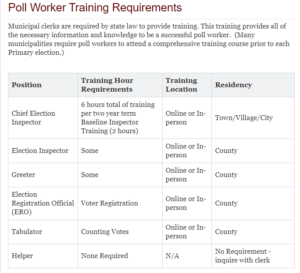 How do I become a poll worker?
If you are interested in becoming a poll worker, there are two ways to be nominated: either through a nomination from the Democratic or Republican Party or by applying directly to your town, village or city clerk.
If you are active in a political party, you can be nominated by your county party to serve as an election official. You can find contact information for your county party chairperson by going to www.wisgop.org/county-parties/ for the Republican party or www.wisdems.org/county-parties for the Democratic party. You can select your county from these websites and view the contact information for your local party chairperson. Please note that party nominations must be submitted to the mayor, village president or town board chairperson no later than November 30 of each odd-numbered year.
If you do not wish to be appointed through a political party, you can be nominated by your mayor, village president, or town board chairperson. You can contact your municipal clerk directly to find out more about the application process. Your municipal clerk's contact information can be found at MyVote.wi.gov.
How are poll workers selected?
According to State Statutes (7.30 ( 4)) the Mayor, President or Board Chairperson of the municipality is required to nominate poll workers to the governing body no later than the last regular meeting in December of odd-numbered years. The governing body of the municipality appoints the poll workers for a two-year term before December 31.
The nominees are to come first from lists submitted by the two dominant political parties, which are due no later than November 30 of odd numbered years, and may be supplemented at any time. Local party chairpersons are responsible for submitting theses lists of names to the Mayor, President or Board Chairperson of the municipality, for each polling place.
If a local party does not submit a list, or does not submit enough names, the Mayor, President or Board Chairperson may nominate qualified individuals on a non-partisan basis, without regard to party affiliation.
Where will I be assigned?
In smaller municipalities, there is often only one polling place. However, in larger municipalities there are multiple polling places. In larger municipalities, every effort is made to assign a poll worker to their neighborhood voting site. However, poll workers in larger municipalities such as large cities must be willing to be flexible and consider assignments at other sites.