Welcome to the Town of Delavan!
Welcome to the Town of Delavan...
...where the living is as good as the fishing!
Where you can kick back, relax, and enjoy the waters of Delavan Lake. There's something for everyone here. And everyone is welcome, whether you're just stopping in, or staying for good. Come explore our town, rich in scenery, history, shops, parks, recreational activities, dining, and destinations.
---
Brush and Yard Waste Drop Off Hours
Monday - Thursday @7am-3:30pm
Saturdays (May through October) @7am-11am
Is there a Difference between the Town or City of Delavan?
Yes. The Town of Delavan is our town, which, for the most part, surrounds Delavan Lake and the inlet and includes businesses like the Village Supper Club, Waterfront, the Inn Between, Delavan Lake Yacht Club, JoJo's Pizza and their Taco Truck, The Dancing Horses Theatre, Scoop's Place, Lollipups, Gage Marine, Delavan Lake Resort, Rig-a-Tony's, Bronze Bootique, the Kringle Company, The Belfry House and Opus Restaurant, Boxed & Burlap, and much more.
The City of Delavan includes Lake Lawn Resort, Walmart, Lowes, Kohl's, WI School for the Deaf, Delavan-Darien School District, and the area on the brick road near Romeo, the Elephant Statue, to name just a few.
Visit us at the Town Hall
5621 Town Hall Road,  Delavan, Wisconsin 53115
---
Town Hall Hours
Monday - Friday - 8:30am - 4:30pm
We are Closed on Saturdays and Sundays. 
---
Drop Box
Please consider using our drop box - located on the right side of the Town Hall, between the Town Hall and the Police Department - to drop off correspondence after hours.
---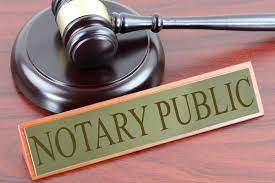 Do you need a Notary?
The Town of Delavan has a number of notaries on staff, to assist you.
Please call 262-728-3471 to schedule an appointment.
---
Open Records Requests
If you would like to request any records, you must submit a formal Record Request. Please download and complete the "Request for Access to or Copy of Public Record" Form and return to Clerk McChristy at [email protected]
You may be charged a fee of $.25 per page. Please see our ordinance for more details.
Waters Edge Grand Opening!
The Grand Opening of Waters Edge will be at the annual Oktoberfest celebration, scheduled
for Saturday, October 23rd from 12-6pm.  Join us for the ribbon cutting ceremony at 11:45pm,
then stay for German food, entertainment and fun all afternoon.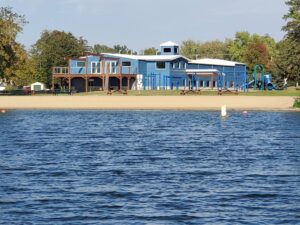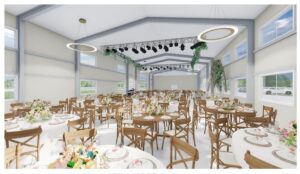 The Town of Delavan has been renovating our Community Park Building and it is now a premier on-the-lake wedding and event venue, accommodating groups of up to 250.
​Waters Edge on Delavan Lake has begun booking for events in Winter 2021 and all seasons in 2022.
Contact Becky Dreyer at 262-208-4577 to book your event at Waters Edge!
---
South Shore Drive Project a GO!
On July 21, 2021 the Town Board approved the South Shore Drive Road Project (5-0) and have awarded Wolf Paving the bid of Wolf Paving - $2,645,992 to complete the project. The project had been delayed until a Financial Audit was completed. Now that the audit is complete the project will resume, beginning at Bailey Road.
Residents of the surrounding area have the option to sign up for our automated construction update text service or call the Hotline – (262) 249-6544 – to receive the most recent construction update.
Sign up to receive text message updates:
Text the word:  roads   to #74121
Standard message and data rates apply. Project updates will be sent directly to your mobile device Or click the link below to be directed to the sign up page:
https://mobile-text-alerts.com/Roads
To stay abreast of the progress, please go to their website for more information:
https://www.cardinalroadprojects.com/
The funding for the project will be a combination of monies that include a loan.  It will be a 2% note for 5 years with a balloon payment after five years. This would raise taxes approximately $16 per hundred thousand of assessed value.
The Board is looking in to various ways to reduce the cost to taxpayers. All agreed that the projected was a priority. The project is set to begin between July 28 and August 6, 2021.
---
Town of Delavan Assessment Roll 
---
Who are Assessors? Why is my Property Tax so High?
A notice of NEW VALUE was sent out to Town of Delavan Residents on Monday, June 7, 2021.
It's a revaluation so everyone, regardless of value change, will get a notice.
Questions About NEW VALUE Notice?
If you have any questions or concerns about this notice from Accurate Appraisal, please send all questions and differences in opinion to Accurate.